Light and agile Prompt trigger - TTC & Royal Axe joint customization Misty Purple Keyswitch
Light and agile Prompt trigger - TTC & Royal Axe joint customization Misty Purple Keyswitch
(Summary description)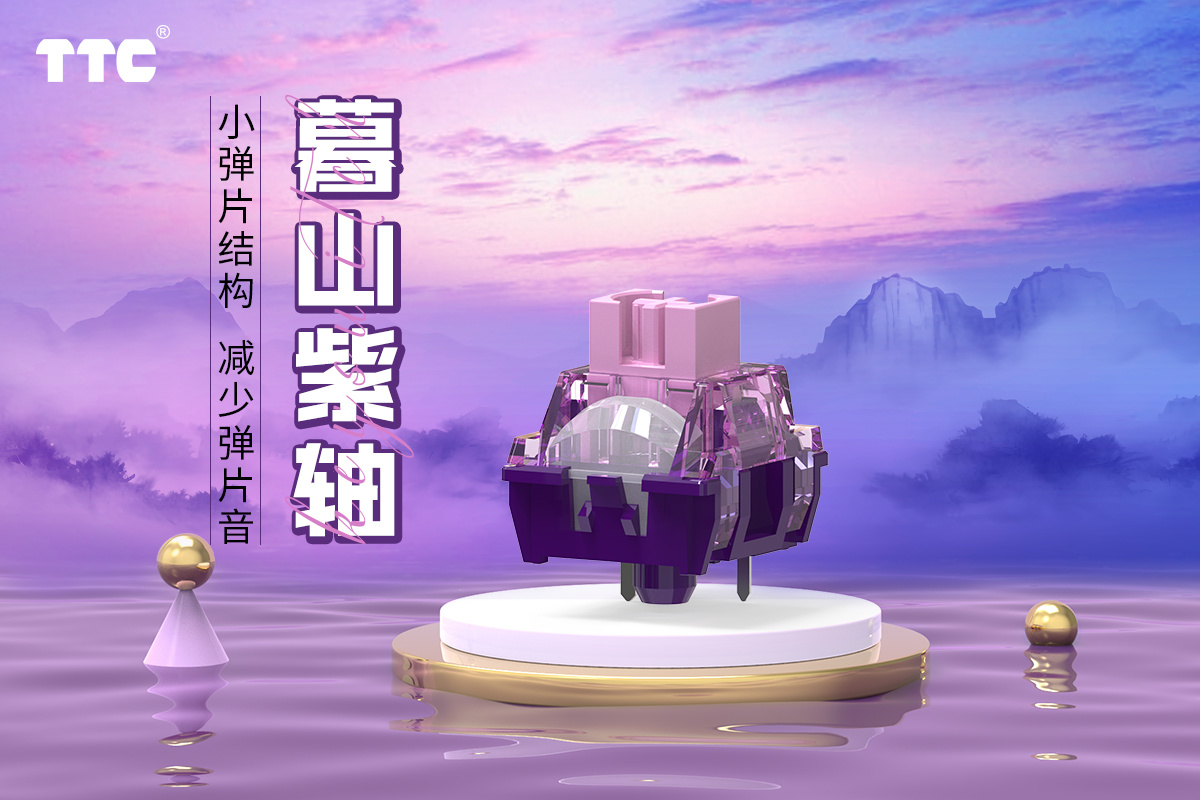 【Misty Purple Keyswitch·Color Matching】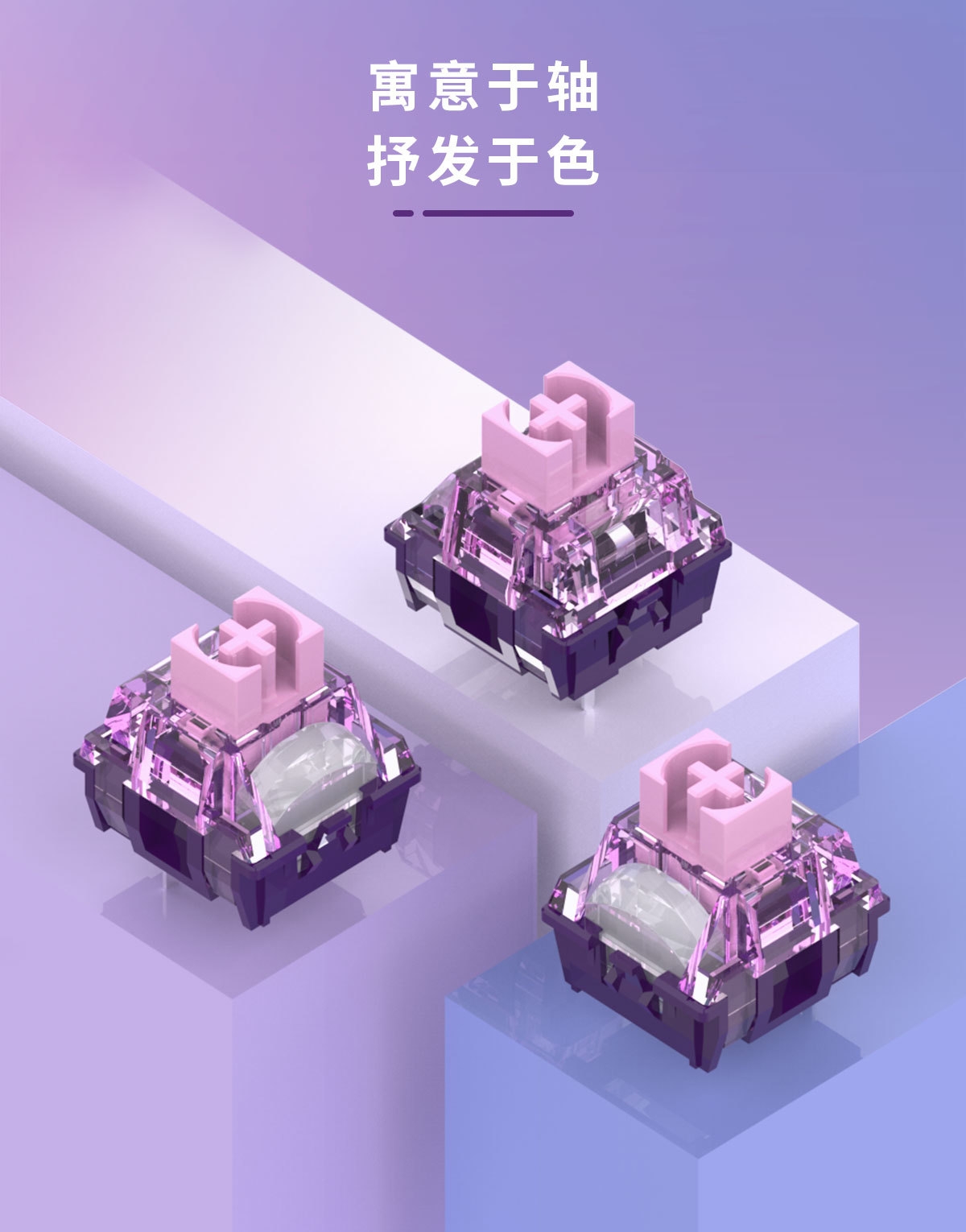 "The puddles on the ground have dried up, and the water in the pond is cool and translucent.At dusk the rays of the setting sun, condensed in the evening haze, turn the mountains purple. " The design inspiration of TTC Misty Purple Keyswitch is from the Tang Dynasty writer Wang Bo wrote a parallelism "Tengwangge Preface". It was late autumn in September, the water was clear, the clouds were congealed in the dusk, and the mountains were purple. The purple of the distant mountains in the sunset mist is called Misty Purple. Purple represents mystery and nobility, while pink symbolizes sweetness and cuteness, and the perfect combination of the two creates the gentle and charming Misty Purple Keyswitch.
【Misty Purple Keyswitch·Design】
TTC& Royal Axe & FOPATO jointly customized Misty Purple Keyswitch, using TTC innovative design to reduce the amplitude, reduce the shrapnel sound of the small shrapnel structure, to create a light pressure linear fast keyswitch, 40gf gentle trigger pressure, suitable for office easy typing ; 1.6mm quick trigger, like the purple warriors in the mountains, shuttling between the mountains and rivers in the bamboo forest, fingertips click between triggers; sturdy and nimble, fresh and free.
【Misty Purple Keyswitch·Material】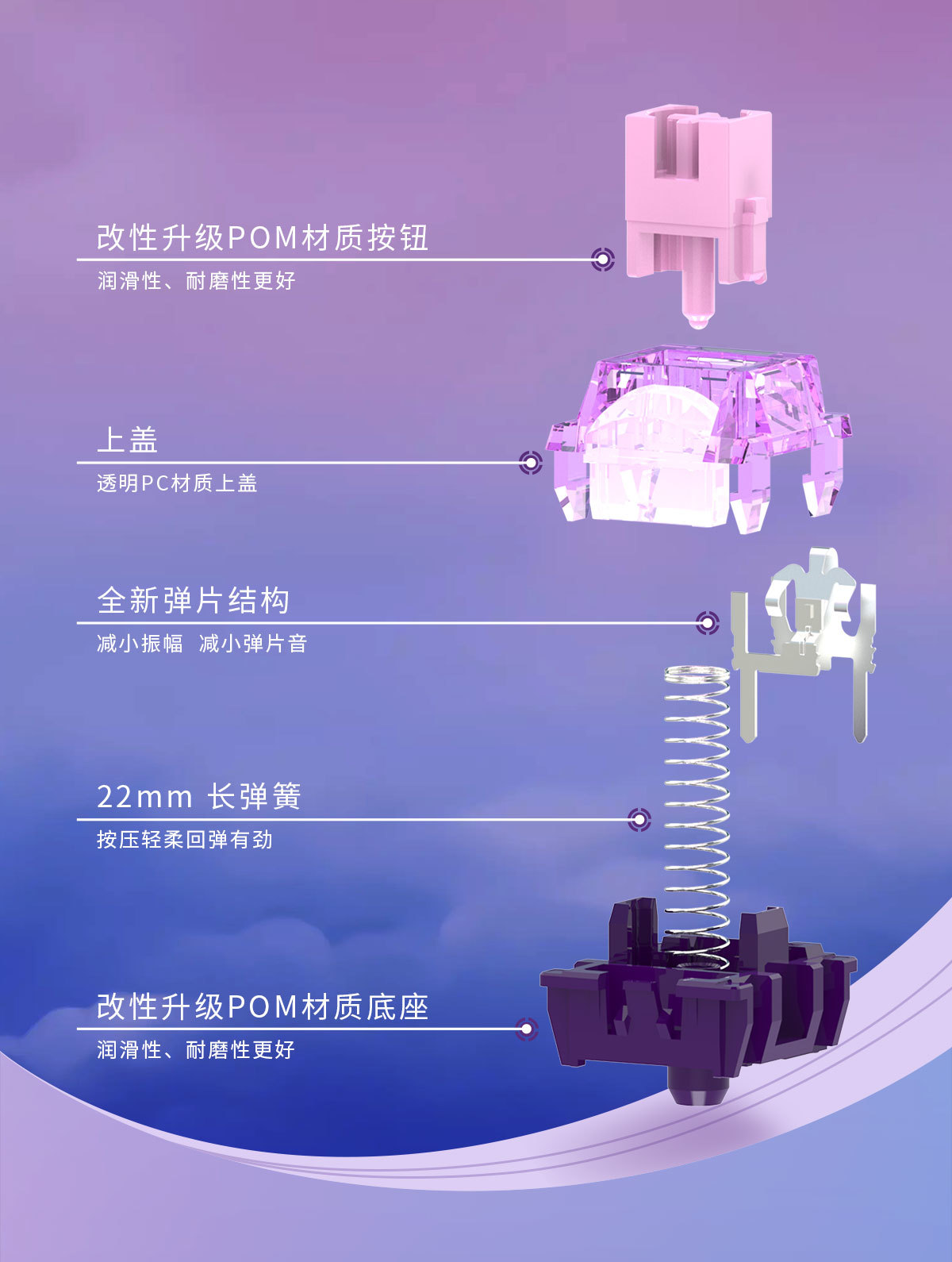 TTC Misty Purple Keyswitch adopts pink modified POM material core, equipped with pink purple transparent PC material cover and purple modified POM material base. This unique combination of materials and colors not only gives the keyswitch a unique appearance, but also provides excellent performance.
【Misty Purple Keyswitch·Structure】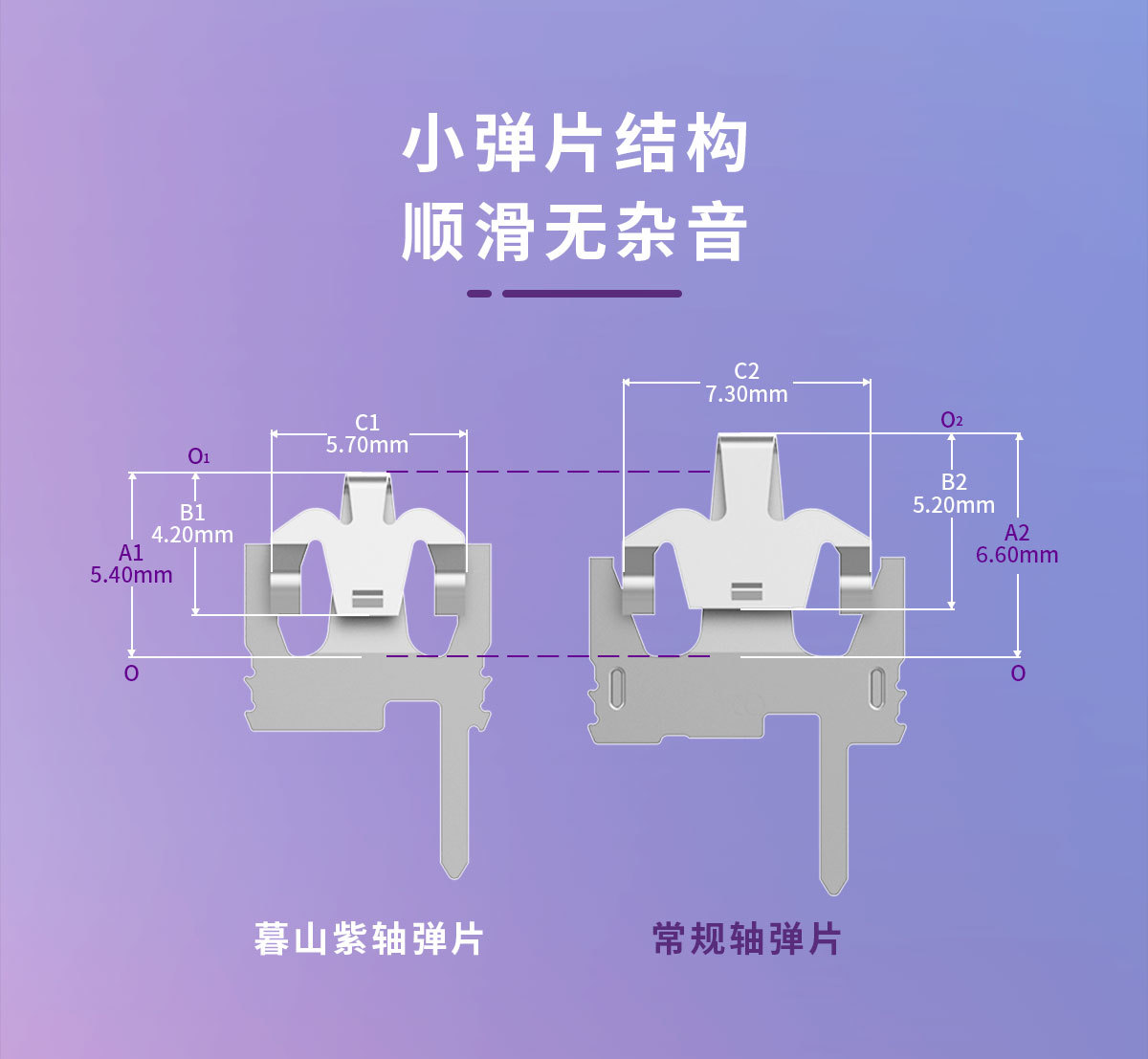 The TTC innovative small shrapnel structure scheme is adopted to reduce the shrapnel amplitude and the shrapnel sound. By shortening the length of the shrapnel longitudinal lever and the distance between the lateral contacts, the shrapnel amplitude of the keyboard switch is effectively reduced greatly. Reduced shrapnel amplitude, reduced shrapnel sound. Misty Purple Keyswitch not only provides excellent feel performance, but also guarantees a comfortable sound experience.
【Misty Purple Keyswitch· Keyboard】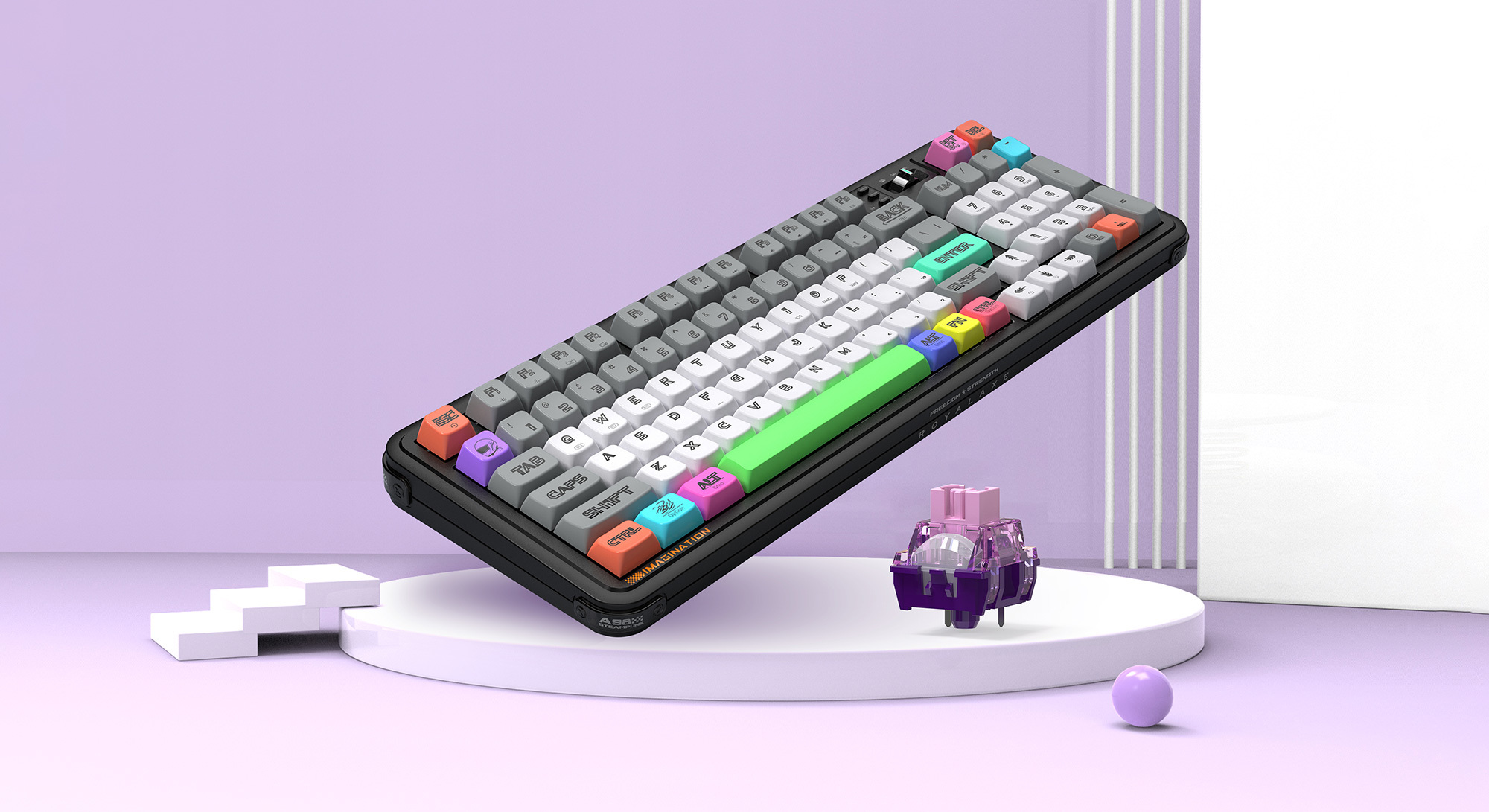 Misty Purple Keyswitch will be launched by the FOPATO and the Royal Axe brand at the same time, will be mounted on the mechanical keyboard of FOPATO and Royal Axe. It will be officially launched in September! We look forward to starting a new story with you in the new keyboard era!