Love, Visible -- TTC releases Honey Keyswitch V2
Love, Visible -- TTC releases Honey Keyswitch V2
(Summary description)Love is 3D raised design, the fingertip gentle touch, full of touch, so that love can be seen and felt.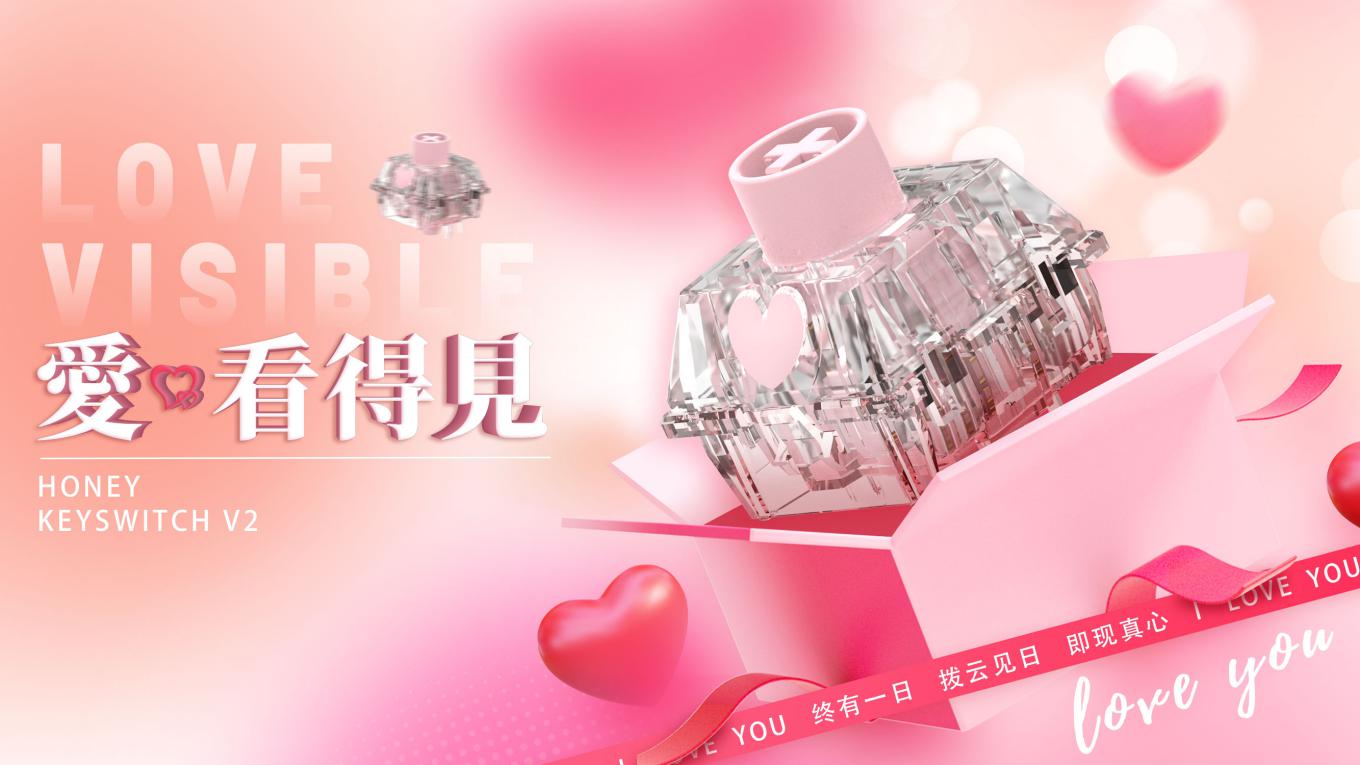 In May 2021, TTC released its first Lego mechanical keyswitch, the Honey keyswitch. The industry's first fully transparent mechanical keyswitch supporting wave crest welding, the first time to wear gold and silver technology to improve the durability of keyswitch socket, as many as nine parts Lego combination structure, each transparent button with a red heart in the center, meaning "love deep in the heart", deeply loved by fans and friends.
Love -- visible
If you are shy, timid and not good at expressing love at the beginning of love, you have to keep your love deep in your heart, until one day, through the clouds, you will find your true love.
Then, by the acquaintance into the lovers in love, the expression of love is no longer need to beat about the bush, but true, meaning, "On high, we'd be two love birds flying wing to wing, On earth, two trees with branches twined from spring to spring."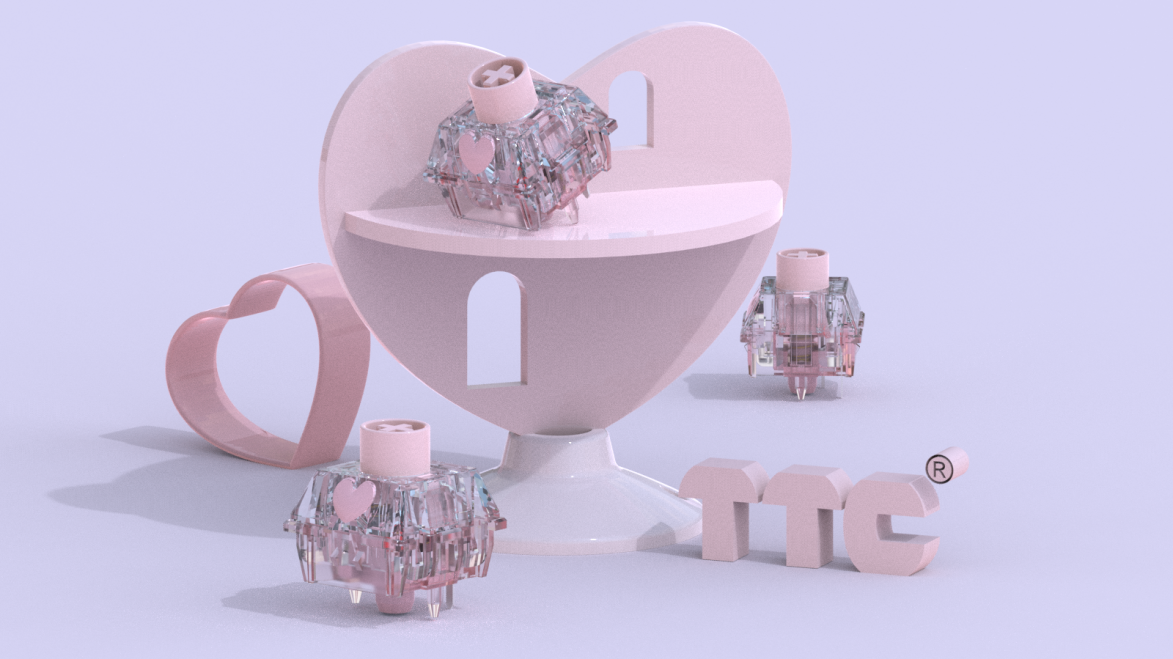 On May 17, 2023, two years later, in the leadup to the 520 Festival, the TTC officially released the Honey Keyswitch V2: Love -- Visible!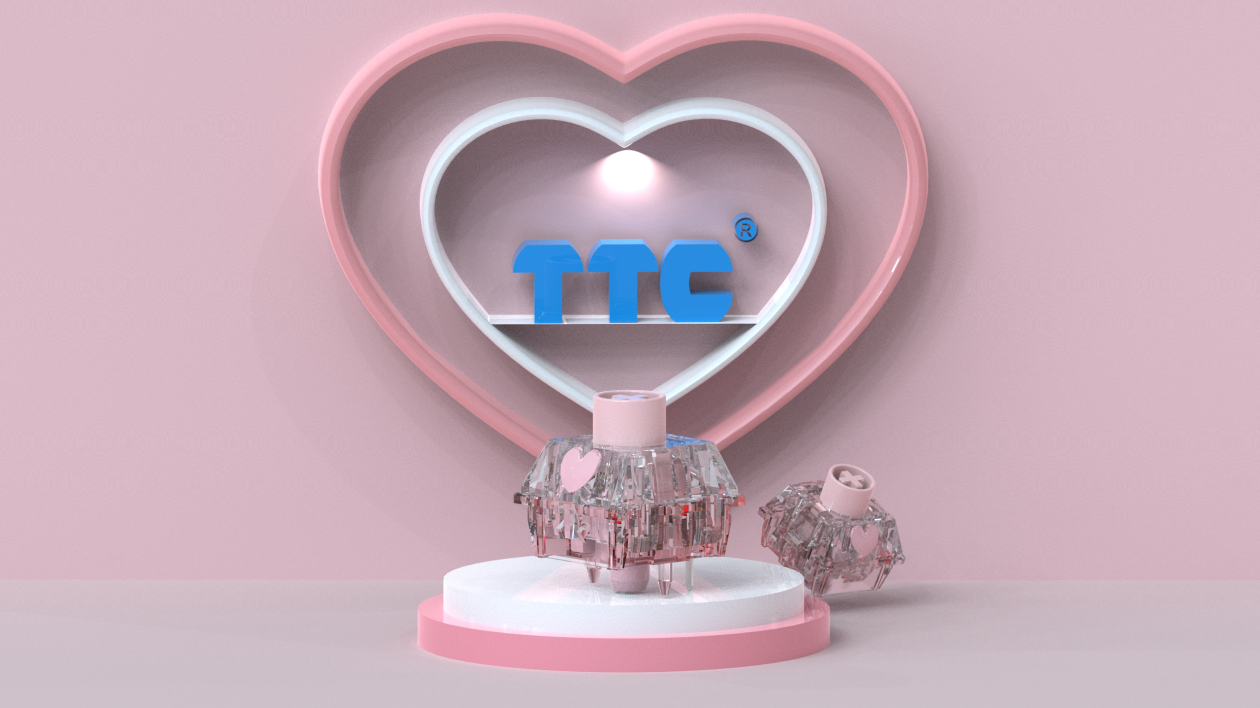 The honey keyswitch V2 shows elegant pink, the color transition is natural, pink and lovely. Love is 3D raised design, the fingertip gentle touch, full of touch, so that love can be seen and felt.
Warm, sweet, beautiful, pure, pink and beautiful pink rose, is the mist in the morning air, hazy like gauze floating; is "moonlight tonight is really beautiful" "wind is gentle" implicit moving and gentle; it was Qian Liu, the king of Wuyue, who was greatly affected by the terrible state of Wuyue. He wrote a letter that read: "On the Great Wall, the blossoms will return slowly." A few words, but true, delicate.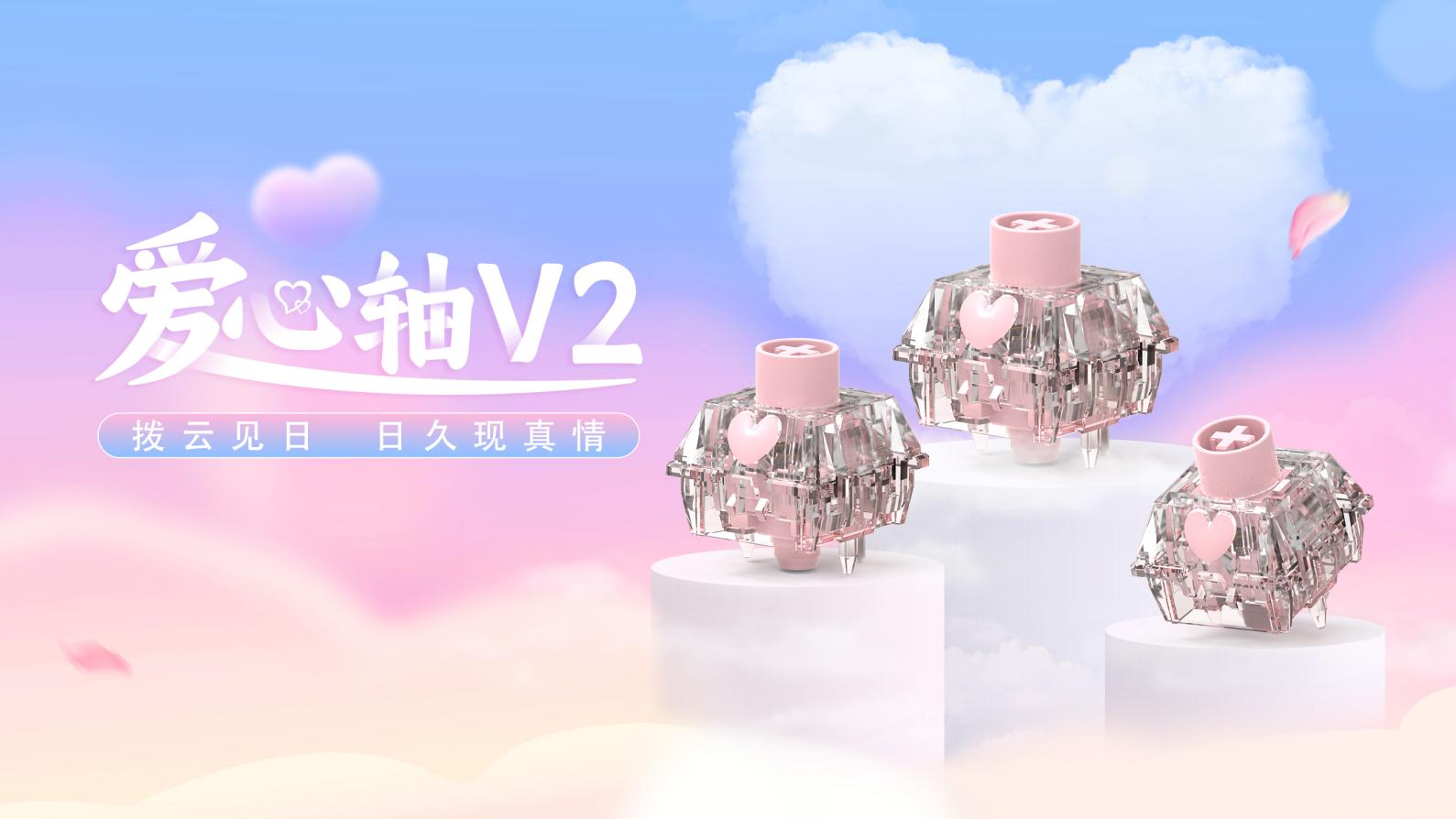 Pink, is a force that can not be ignored, low saturation, looks light and transparent, has a girlish feeling and temperament, is the color of my family has a girl's first growth; it is a symbol of warmth, sweetness, beauty and purity.
Heart -- can be touch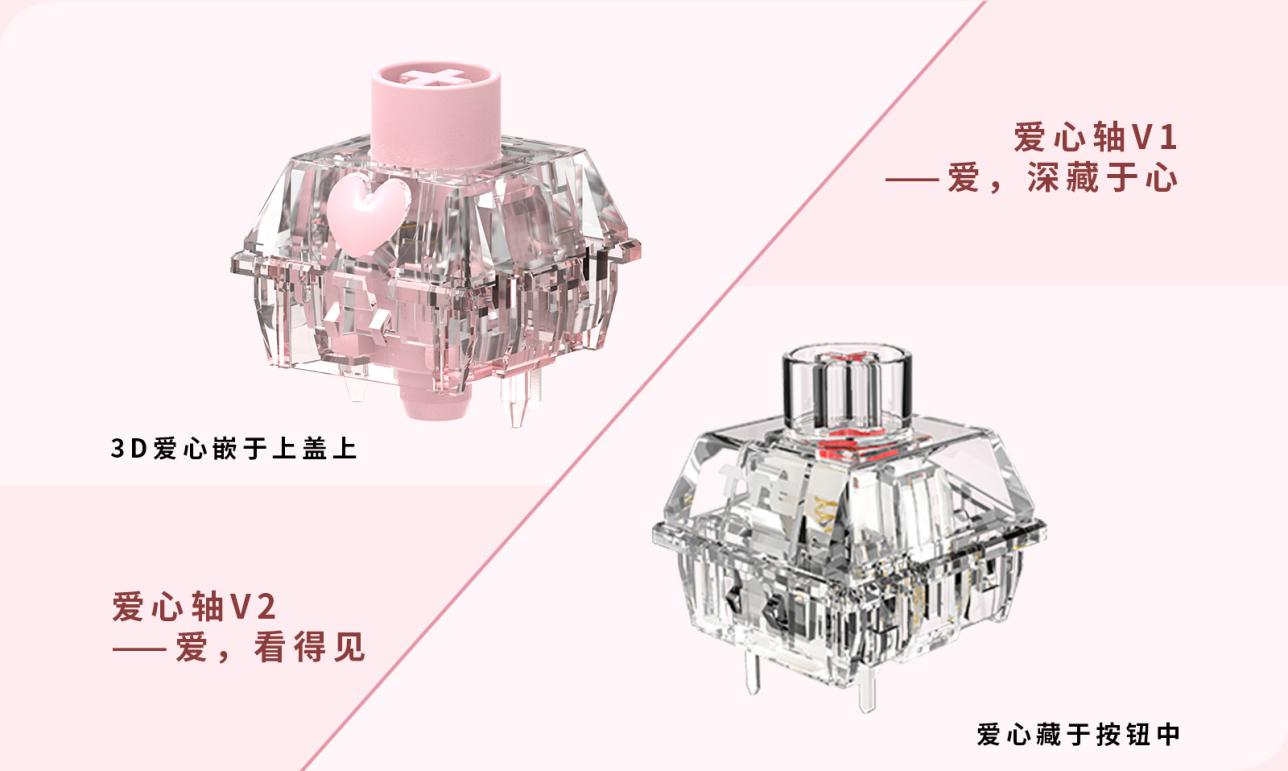 TTC Honey keyswitch V2 is different from Honey keyswitch V1. In appearance, the love design is changed from hidden between the keyswitch cores to embedded in the upper cover. It adopts double multi-color cross-conversion mold manufacturing and injection molding process. It need to fine line engraving of only 0.3mm in only 4.5x4.8mm interval. To meet this requirement, the failure rate is extremely high and the development is extremely difficult.
Keyswitch --can be feel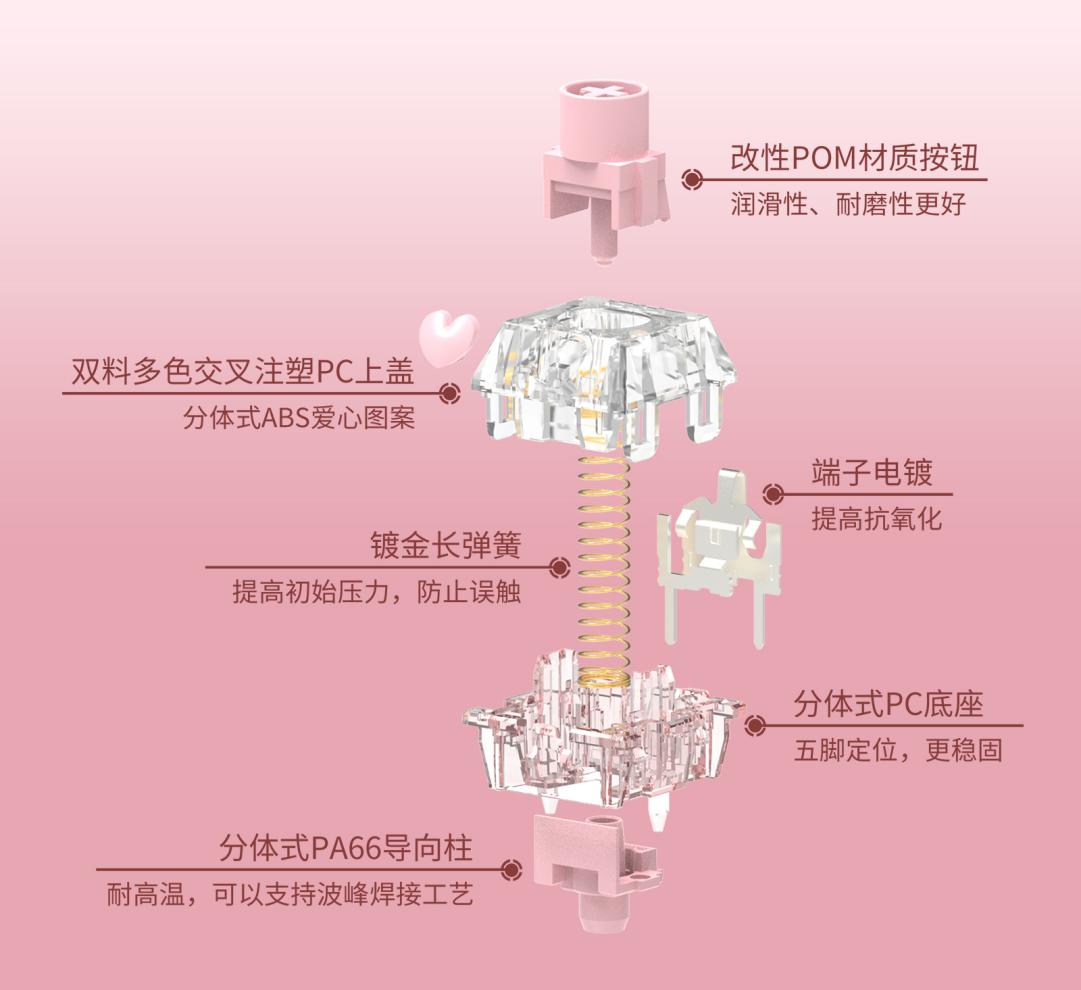 TTC Honey Keyswitch V2 follows the parameter specifications of Honey Keyswitch V1, 42gf gentle trigger pressure, equipped with 22.5mm extended spring, providing strong resilience and strong heel feel; 3.8mm total travel, extended keyswitch core bottom design makes it sound pleasant and feel comfortable.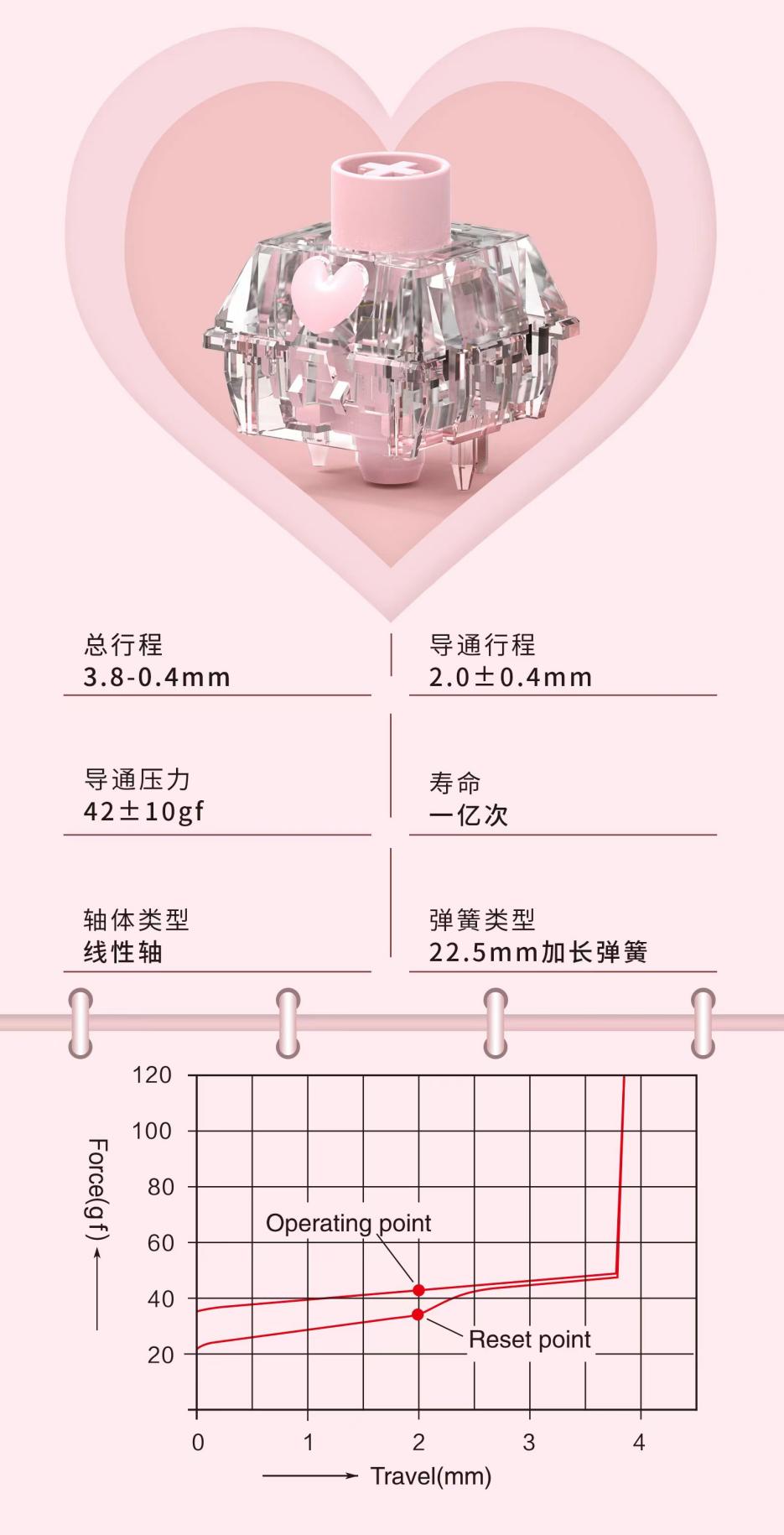 Gold-plated spring, double gold contact and silver-plated pin design, "wear gold and wear silver" configuration, precious metal protection, improve the durability and beauty of keyswitch socket DIY.

Honey keyswitch v2 is like a smart dancing girl, pink gauze dress swing with the wind, light, fresh, soft, budding, arousing heart. The conductive terminal foot and the base are combined with the adhesive anti-penetration process. While improving the joint strength of the terminal foot and the base, the rosin, flux and related corrosive gases and liquids can also be refused to enter the keyswitch to ensure conductive contact, to achieve zero gap and zero penetration, reliable and stable, foolproof.
2021 Love, deep in the heart;
Love, waiting silently, waiting for flowers.
2023 Love, visible;
The sound of love, lingering in my ears.
520 Do your favorite, happy and sweet.
There is love day, every day is Valentine's Day.